How to unlock your phone for free.
We are looking for people to help us make instructional videos on Youtube.com. These videos should show how to order the unlock code, receive the unlock code by email and then entering code into your phone.
How this works: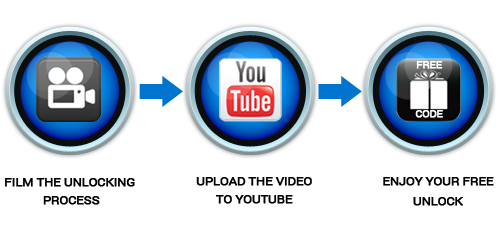 Place initial order for unlock code by selecting your phone's make and model
Once you receive your unlock code via email, you will need to CLEARLY film the process of:

Going to www.cellcorner.com, finding your IMEI number, selecting the model and network of your phone and finally placing your order. (You do not need to show your payment information).
Receiving an email with the unlock code and instructions.
Inputting the unlock code sent to you by email into your phone.
Showing that your phone is in fact now unlocked.

Once you are done filming, upload the video to Youtube.com and send us the link.



As soon as we get your email and verify that the video complies with all conditions we will reimburse the full price that you paid for the unlock code.


*Please note that iphone unlocking is not currently eligible for this promotion.
Youtube video format:
Remember that your video MUST be clear.
Your video should be formatted as in the example below:
Title:
How to Unlock ZTE Z992 Avail 2 (your phone make and model) from At&t (network your phone is locked to)
Video description:
This is an example of how to get unlock your ZTE Z992 Avail 2 from At&t. I got my unlock code from (Link on the website where you placed your order). To input the unlock code you:
1. Insert a non accepted sim card into the phone.
2. The phone will ask you to enter the unlock code.
3. Enter the unlock code. Your phone is now unlocked. That's it!
Thanks Cellcorner.com!
Links:
Please include the link where you purchased your code from, for example:
Sierra Wireless Aircard 330u – http://www.cellcorner.com/xshp/unlock-phone-codes/unlock-bell-canada-sierra-wireless-aircard-330u-by-unlocking-code-via-imei.html

LG E980 Optimus G PRO - http://www.cellcorner.com/xshp/unlock-phone-codes/unlock-code-for-lg-e980-optimus-g-pro-mobile-phone-simlock-unlocking.html

ZTE Z992 Avail 2 - http://www.cellcorner.com/xshp/unlock-phone-codes/simlock-unlock-code-zte-z992-avail-2-mobile-phone-unlocking.html
etc…
Tags (at least 5 tags):
Unlock, Phone, LG, E980 Optimus G PRO, At&t, Code, Guide, Instructions, How to, Tutorial
For any questions regarding this promotion please contact us via livechat or at
free-unlock-code@cellcorner.com
Examples:
Video instructions how to unlock AT&T Unite Pro (Netgear 781S)
Video instructions how to enter unlock code in LG Quantum C900
Video instructions how to unlock T-mobile hotspot PRO (Samsung SM-V100T)
Video instructions how to unlock LG THRILL P925
Video instructions how to unlock AT&T Unite (Sierra Wireless 770S)
Video instructions how to enter unlock code in Netgear 785S / 786S
Video instructions how to unlock AT&T Beam modem (Sierra Wireless 340U)