A
fter numerous requests we have expanded number of Blackberry models supported with mail-in unlocking service for hard locked phones. Such phones display message
MEP code (0 left)
or do not give any prompt at all when user tries to enter unlock code into the phone.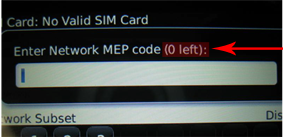 Debranding is available for most Blackberry models as well.
Volume customer will enjoy discounts.
Contact us
if you have more than 50 pieces to unlock.
Newly added Blackberry models:
Previously supported Blackberry models:
More exciting exclusive services for Blackberry are coming. Stay tuned.